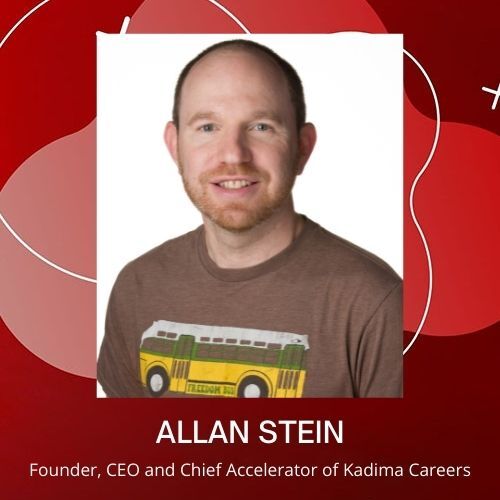 Our guest today helps the under-represented, under-estimated and underpaid talent land high paying jobs at the world's best tech companies. He's an ex-Google, ex-Facebook, ex-Sales Force and ex-American Express employee.  
Founder, CEO and Chief Accelerator of Kadima Careers, Alan Stein knows the inside out, the start to finish walkthrough of how to get hired with any of the giant multinational companies. He's been there and seen what's spoken and how to fix it.  
 Key Takeaways: 
The main ingredient for disruption is questioning everything and how it can be done better. Things are done for irrational legacy reasons or miss-aligned incentives. 

 
Status Quo of the hiring process or recruiting talent – hiring process is a huge field and there are millions of jobs out there. Tech giants like Amazon, PayPal, Netflix, Google, Adobe, Spotify, Microsoft, Facebook, Apple etc. (considering Fortune 500 companies) open up roles and streams of applicants come in. These companies are hiring machines and recruiting employees the same way each year, sorting out thru the huge amount of applications as they are attractive brands. 

 
About a 1/3

rd

are hired via referrals at the top companies 

 
Most of these companies are looking to hire black talent as they are the most underserved. A lot of companies have between 2% - 4% of black employee base and in the USA the number has risen to ~13% 

 
There is a lot of social pressure to hire a diverse workforce like (including but not limited to) Native Americans, LGBTQ, Differently abled, Military vets, Latin ex, Women and Black

 
The Big Problem – Recruiters are focused on hiring with speed & volume and the hiring managers are focused on speed and quality, very few companies are measured on their candidate experience. During this process, if they get black talented women, awesome! But these companies will fill in a role based on the candidates they meet first from some top universities. 

 
Alan's main motivation to disrupt the hiring process was a combination of his recruiting/hiring manager role, which he took on as a passion to bring in a diverse workforce and expand the scope of his networking efforts.

 
Alan's advice to candidates applying to these tech giants is to understand the process because the companies are not going to change their hiring processes. One of the things to consider is to submit your application in the first week or two – if not you're probably amongst the thousands who stay in the queue.

 
Alan also advises to always check the careers/jobs page of the company you want to work with because, by the time a job listing comes on a third party job website, it's about 4 weeks old with a pile of resumes rolling in on top of referrals.      

 
Cover letters are a BIG waste of time, it's more effective to invest time in building relationships and networking instead of writing a cover letter which will have little or no influence on the hiring process.  

 
 


 
Quote of the show: 
6:29 to 7:01 
"They are in some desire, a lot of these organizations say that they want to increase diversity and I do honestly believe most of the leader there actually do want to occur but what's more important is the hire quickly, to fill these roles quickly. So if diversity can enhance the situation, GREAT! But it's not going to slow down the machine of just gobbling up all this great talent that is interested in working for these top companies." 
 
Links: 
 Ways to Tune In: