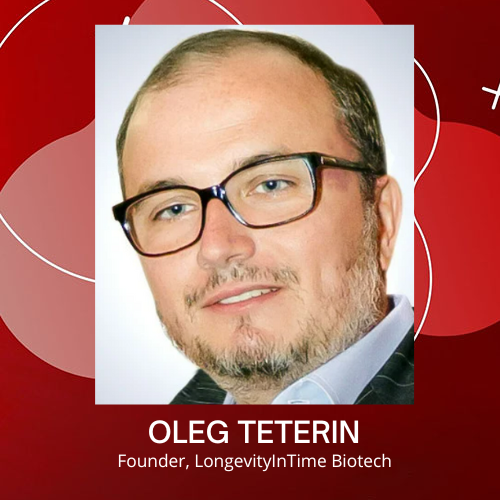 With a background in business and investment banking, Oleg Teterin is ready to transform the biotech and anti-aging industries using AI to track 400+ essential health parameters. The emerging technology of AI has been applied to marketing, business, and software tasks, but it can also help individuals avoid disease and prolong their lives. 
With his global startup, Longevity InTime, Oleg and his team of engineers and scientists are adding to 50+ years of G20 big data to amass the smartest, most complete online diagnosis technology to detect the early stages of diseases. Their goal is to help prolong individual lives to 95 to 120 years of happy, functional experience. 
Key Takeaways 
Each person's health risks include genetic, environmental, and lifestyle factors that the average individual or medical professional cannot accurately track. 
Diagnostic and blood tests are often expensive and only examine up to around 20 factors, while AI technology can track over 400. 
Even with diagnostic equipment and experience, doctors can make mistakes, miss problems until they progress, or diagnose incorrectly. 
AI powered with vast, global data and an individual's medical history can aid doctors in their analysis and provide a valuable second opinion. 
By tracking over 400 factors and applying an individual's medical and genetic history, an AI database can make 100% personalized predictions. 
What you don't know about your health can kill you. Medical institutions are not implementing lifetime health tracking in the way current technology can. 
Predictive technology will help people live longer, healthier lives and reduce healthcare and insurance expenses. 
Oleg Teterin and his group are developing a longevity scientific resort in the Maldives. Customers will be able to visit for a month of scientifically based, longevity-focused treatments. 
The longevity tracking software is available through a mobile app to make it easy and accessible to people worldwide. 
Quote of the Show: 
36:35 "Lots of scientists are … losing this war with death. They're underfunded... nations and governments … don't understand that they need to invest in that. … So our mission is to make our own healthy life [and] earn on it, [so we can] invest the fruits of these revenues into fundamental science to get the product, which can really extend life."
Links:
LinkedIn: http://linkedin.com/in/olegteterin      
Twitter: https://twitter.com/TETERINOLEG  
Website: https://t.me/LongevityInTime 
Ways to Tune In: 
Amazon Music - https://music.amazon.com/podcasts/eccda84d-4d5b-4c52-ba54-7fd8af3cbe87/disruption-interruption 
Apple Podcast - https://podcasts.apple.com/us/podcast/disruption-interruption/id1581985755 
Google Play - https://podcasts.google.com/feed/aHR0cHM6Ly93d3cuZGlzcnVwdGlvbmludGVycnVwdGlvbi5jb20vZmVlZC54bWw 
Spotify - https://open.spotify.com/show/6yGSwcSp8J354awJkCmJlD 
Stitcher - https://www.stitcher.com/show/disruption-interruption 
YouTube - https://www.youtube.com/channel/UCf2zbLqmHtSHQ7u1V-Is8cA